Our real estate competitor survey worksheet was designed out of our Recruiting Mastery program which is available to our Private Client Members.
Analyze your office and company strengths and weaknesses. What gives you an edge or disadvantage in the marketplace. How is this perceived by your agents, your competition and the customers?  Now do the same exercise for each of your competitors.
The real estate competitor survey worksheet does a deep dive into your competitors to discover their strengths and weaknesses.  This information is essential in established markets.  It is even more important in expansion markets.  Defining your competitors help you frame your narrative and compete in the field.  It also gives you recruiting and retention advantages.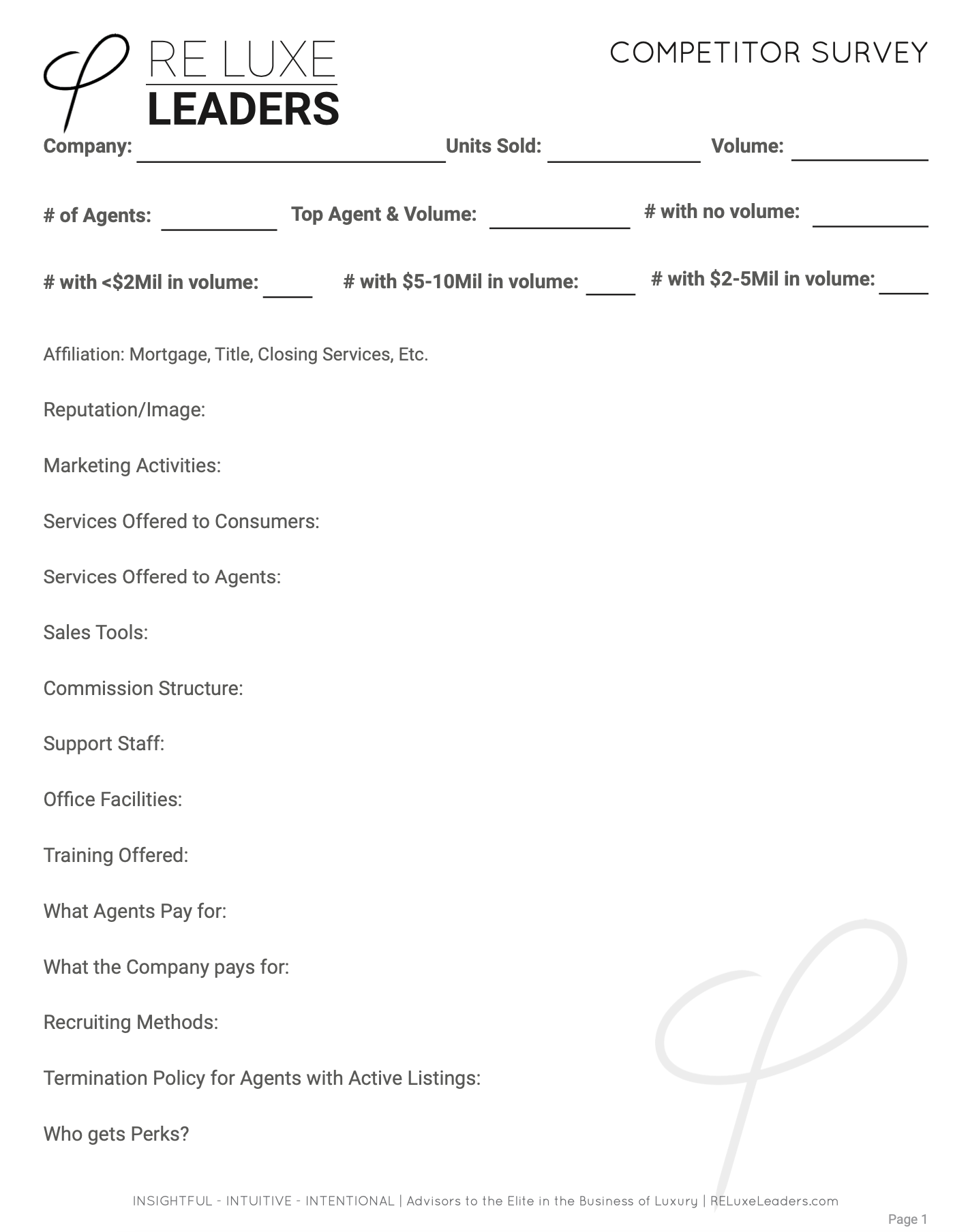 Here is a look at each area you should be looking at.
Company:
# of Agents:
# with <$2Mil in volume:
Units Sold:
Top Agent & Volume:
# with $5-10Mil in volume:
Volume:
# with no volume:
# with $2-5Mil in volume:
Affiliation: Mortgage, Title, Closing Services, Etc.
Reputation/Image:
Marketing Activities:
Services Offered to Consumers:
Services Offered to Agents:
Sales Tools:
Commission Structure:
Support Staff:
Office Facilities:
Training Offered:
What Agents Pay for:
What the Company pays for:
Recruiting Methods:
Termination Policy for Agents with Active Listings:
Who gets Perks?
Using this Analysis, profile the Agent you intend to target as to production, volume and units, source and method of business, business philosophy, voids in the market, etc.
Need help growing your office or team?  We'd love to chat with you about how you can dominate your market space.  Feel free to reach out to us here.