Mastering Personal Brand Leadership in Real Estate
A Luxury Real Estate Brokerage Consultant's Perspective
Explore the transformative power of personal brand leadership in the real estate industry. Learn how the pillars of self-awareness, self-regulation, emotional intelligence, and authenticity can bolster a leader's influence, drive team success, and navigate market volatility.
When it comes to the challenging and dynamic world of real estate, the importance of strong, influential leadership cannot be understated. This is especially true as we navigate the ever-evolving digital era where the notion of personal brand has become a pivotal factor in shaping a leader's influence and success. The power of personal brand leadership lies in its capacity to captivate attention, differentiate from the competition, and ultimately, make a significant difference.
Personal Brand Leadership in Real Estate: The Rise of the Personal Brand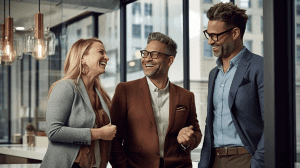 Just as the music world has shifted from record label dominance to artists controlling their destinies, so too has the world of business witnessed a similar evolution. Today, the corporate brand is gradually giving way to the power of the personal brand. In the face of challenges, individuals, entrepreneurs, and real estate business team leaders have been able to pivot, utilizing the advancement of technology to display resilience and character, even offering opportunities for those displaced from traditional corporate roles.
This evolution is reshaping the real estate sector. A personal brand enables leaders to demonstrate their unique perspectives, leverage their unique experiences, and share a vision that resonates with their team and their clientele. This approach is adaptable within or outside of traditional corporate structures, be it in a team environment or in a CEO's office. Regardless of the setting, the crux remains the same: a personal brand leader commands attention and trust, positioning themselves as the only viable option rather than a well-kept secret.
Personal Brand Leadership in Real Estate: Core Tenets
Success in personal brand leadership hinges on the mastery of four key traits: Self-awareness, Self-regulation, Emotional Intelligence, and Authenticity. Each of these elements plays a unique role in establishing a powerful personal brand and has a profound impact on your team's performance and success in the real estate market.
Personal Brand Leadership in Real Estate: Capitalizing on Strengths and Improving on Weaknesses
Self-awareness means understanding your unique leadership style, industry acumen, negotiation strengths, and areas of improvement. Being a self-aware leader enables you to leverage your abilities effectively to drive team success while seeking growth in areas where you are less adept. Additionally, understanding how your decisions affect your team promotes inclusivity and effective decision-making.
Personal Brand Leadership in Real Estate: Stability in the Midst of Market Unpredictability
In a volatile real estate market, self-regulation is an invaluable leadership trait. The ability to manage your emotions, maintain composure under pressure, and make level-headed decisions promotes stability within your team. It also demonstrates professionalism and integrity, fostering trust and consistency that drive productivity and performance.
Personal Brand Leadership in Real Estate: Building and Nurturing Relationships
Emotional intelligence—the ability to understand and manage emotions—is pivotal in real estate. It's about empathetic communication, fostering meaningful relationships with your team members, clients, and other professionals in the field. By exercising emotional intelligence, you can cultivate a positive team environment, resolve conflicts effectively, and, ultimately, close more deals.
Personal Brand Leadership in Real Estate: Cultivating Trust and Loyalty
Being an authentic leader means being genuine, transparent, and true to your values. An authentic leader is someone who not only communicates their intentions clearly but also aligns their actions with their stated values. This authenticity inspires trust and loyalty, fostering an environment where team members are motivated to excel and clients feel comfortable entrusting you with their real estate transactions.
Collectively, these four pillars form the foundation of personal brand leadership in the real estate industry. By embracing and honing these traits, you can strengthen your personal brand, inspire your team, and drive your real estate business to new heights.
Personal Brand Leadership in Real Estate:  The Future of Leadership in Real Estate
In conclusion, the real estate industry, like the rest of the world, is rapidly evolving. New obstacles come with new opportunities, and new situations demand innovative solutions. Personal brand leadership serves as an invaluable asset in this changing landscape, helping professionals to grow their visibility, credibility, and profitability.
By understanding and implementing the principles of personal brand leadership, you can navigate the shifting tides of the real estate industry, seizing opportunities for growth and success. This approach will not only boost your career but also contribute to a more inclusive, equitable, and ethically charged future for the industry.
Personal Brand Leadership in Real Estate: Parting Thoughts
We hope that the information provided is helpful in guiding you on your journey to building a thriving real estate business.
As luxury real estate consultants, coaches and advisors for Proptech, Fintech, Brands, Brokerages, Teams and Elite agents, we are confident that our resources, insights and strategies can help you achieve your goals.
Remember, success in the luxury real estate industry starts with knowledge and strategy, and we are here to provide you with both.
Here are some links to our more popular resources:
If you're wondering what consulting or coaching solutions we offer, we've set up a handy wizard to guide you to the ideal options that would be tailored to your situation.
For additional and real time insights, updates and news from our Founding and Managing Partner, Chris Pollinger, you can follow him on LinkedIn – Twitter – Facebook – Instagram