5 Elite Home Staging CA Trends in Luxury Design: Expert Insights from LA's Leading Home Staging Company
Embracing Timeless Elegance with a Touch of Boho-Chic
As the trends in luxury design for the luxury real estate market continues to evolve, the art of home staging has become an essential tool for sellers looking to make a lasting impression on potential buyers. To uncover the latest trends in luxury design and gain valuable insights, we sat down with Nicole Senia, Senior Stylist of Elite Home Staging, and Samantha Senia, CEO of Elite Home Staging, both renowned experts in the field. In this exclusive interview, they shared their thoughts on the top five trends shaping the world of luxury home staging in Los Angeles, California.
Trends in Luxury Design: Colors are back in style from the late 60's and 70's
In a delightful nod to the past, vibrant colors reminiscent of the late 60s and 70s are making a comeback in luxury design. Nicole Senia emphasizes the use of warm tones such as browns, beiges, and wood finishes, creating a sense of organic sophistication. These earthy hues, combined with textured furniture fabrics and cozy blanket materials, evoke a warm and welcoming ambiance, appealing to buyers' desire for comfort and elegance.
"By incorporating rich, warm colors and textures inspired by the 60s and 70s, we can create a nostalgic yet sophisticated atmosphere that resonates with luxury buyers. It's all about evoking a sense of timeless elegance," says Nicole Senia.
Trends in Luxury Design: The "boho style" has made a comeback
The bohemian style, known for its free-spirited and eclectic charm, has reemerged as a popular choice in luxury staging. Nicole Senia advises incorporating wood panel accents and neutral color palettes to curate an elegant yet organic feel. This style creates a warm and inviting environment, allowing potential buyers to envision themselves in the space. By embracing the boho trend, high-end homes can strike a balance between contemporary elegance and a laid-back, natural atmosphere.
Trends in Luxury Design: Stick to simplicity, sophistication, and focus on spacing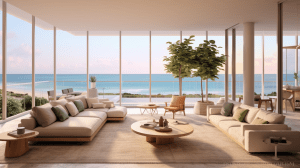 In luxury design, less is often more. Samantha Senia stresses the importance of simplicity when it comes to accessorizing a staged home. By using minimal yet carefully selected accessories, the space exudes sophistication and allows the key elements to shine. When choosing furniture, opt for curved designs that add a touch of elegance. However, Samantha advises maintaining a cohesive flow throughout the home to avoid disjointed aesthetics. Planning and sketching a furniture layout before staging helps ensure a harmonious atmosphere that captivates potential buyers.  Want some inspiration ideas from a curated collection from Elite Home Staging in LA?  You can visit their retail furniture outlet Elite Maison.
"By keeping the design simple and sophisticated, we allow buyers to focus on the unique features of the home. Attention to spacing and a well-thought-out furniture layout can create a seamless flow that enhances the overall experience," explains Samantha Senia.
Trends in Luxury Design: Always remember who your buyer is
Understanding the target market is vital in luxury home staging. Nicole Senia emphasizes the need to tailor the design, furniture, color palette, and floor plan to reflect the tastes and expectations of luxury buyers. Each element should embody opulence and create a sense of exclusivity. By keeping the buyer in mind throughout the staging process, sellers can effectively highlight the home's most enticing features and create an emotional connection that leads to a swift sale.
Trends in Luxury Design: Brand yourself with a unique touch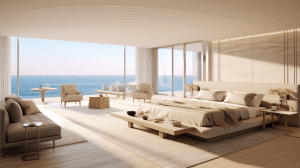 In a competitive market, branding plays a crucial role in standing out from the crowd. Samantha Senia recommends selecting one element that reflects your business and incorporating it into your luxury staging. At Elite Home Staging, they utilize branded coffee mugs, a simple yet effective and classy touch that leaves a lasting impression. By incorporating a unique branding element, sellers can create a memorable experience for potential buyers, making their mark in a sea of luxury listings.
According to recent statistics, staged homes have a higher likelihood of selling at or above the asking price. In fact, a study conducted by the National Association of Realtors found that 83% of buyers' agents stated that staging a home made it easier for buyers to visualize the property as their future home. Furthermore, staged homes spent 73% less time on the market compared to non-staged homes.
Luxury home staging is evolving with a nod to the past while embracing contemporary elegance. By incorporating warm, earthy tones and textures, evoking a boho-chic aesthetic, keeping designs simple yet sophisticated, understanding the target luxury buyer, and implementing unique branding elements, sellers can create a captivating experience that sets their listings apart from the rest. Remember, success lies in the ability to curate a cohesive and harmonious atmosphere that resonates with potential buyers, allowing them to envision their dream luxury lifestyle in the space.
With these insights from Nicole Senia, Senior Stylist, and Samantha Senia, CEO of Elite Home Staging, luxury real estate professionals can confidently adapt their staging techniques to create extraordinary experiences and achieve outstanding results in the competitive luxury market.
Trends in Luxury Design: Top Home Staging Facts and Statistics for 2023 Trends
According to the National Association of Realtors (NAR), 20% of 2022 homebuyers increased their offer on a home by 1% to 5% because the home was staged. Home staging benefits buyers and sellers, as it helps buyers visualize living in a well-set-up home and allows sellers to make more money from a faster sale.
Here are some of the top home-staging statistics from 2022 that highlight what trends we can anticipate in 2023.
Most buyers' agents (81%) said staging a home made it easier for potential buyers to visualize the property as a future home in a 2023 study.1
The living room is identified as the highest priority room to stage for buyers (39%).1
More than half (58%) of buyers' agents reported that home staging affected most buyers' view of the home.1
Forty percent of homebuyers were more willing to visit a staged home they saw online.1
Staging a home resulted in a 1% to 5% increase in the home's dollar value compared to similar homes on the market that were not staged, according to 20% of seller' agents in 2023.1
Thirty-four percent of buyer's agents said that staging positively affects home value if decorated to a buyer's taste.1
Thirty percent of buyers consulted with family members during the buying process, even though they would not live in the home.1
Professionally staged homes sell for an average of $40,000 over the list price, based on a 2021 market survey.2
Staging has been important for the last several years, with a 2019 report stating that 29% of buyers consider a staged home important to their search process.3
Younger generations consider staging extremely or very important (48% of Generation Z buyers and 40% of millennial buyers).3
Forty-eight percent of sellers' agents noticed a decrease in the time a staged home spends on the market.1
Decluttering the home is the most common home improvement task recommended to sellers by agents, with a recommendation rate of 96%. Home cleaning was the second-most recommended task.1
Trends in Luxury Design: Benefits of Home Staging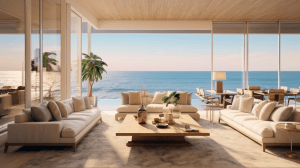 Staging a home allows sellers to show off a move-in-ready home and engage buyers with a visually appealing place to live. Updating rooms to appear on-trend can help buyers see themselves living in the home and create an emotional connection with the home.
A 2021 report found that 85% of staged homes sold for 5% to 23% over the listing price.4
According to a 2019 report, doing virtual home staging (a graphic editor digitally designs a room using virtual furniture and decor) instead of physical home staging can reduce staging costs by up to 97%.6
Twenty percent of buyer's agents noted that staging a home resulted in a 1% to 5% increase in the dollar value offered by buyers compared to equivalent homes that were not staged.1
Homes that were not staged spent an average of 184 days on the market before selling, while homes that were staged before listing sold in just 23 days, based on findings from a 2021 report.4
Trends in Luxury Design: Home Staging ROI
Staging your home makes it more desirable. Data indicates that buyers are likely to pay more for a staged home than one without furniture. Staging is a small investment that can deliver a positive return on investment (ROI).
About 75% of sellers see an ROI of 5% to 15% over the asking price when they choose to stage their homes professionally before they put them up for sale.4
Investing 1.3% in staging results in a 7.1% average over-list return, according to a 2021 survey.2
Staging helps increase the sale price by up to 20% on average based on a 2022 report.5
Sellers who chose not to stage their homes experienced an average home price reduction of five to 20 times greater than the staging investment would have been.5
Trends in Luxury Design: Parting Thoughts
We hope that the information provided is helpful in guiding you on your journey to building a thriving real estate business.
As luxury real estate consultants, coaches and advisors for Proptech, Fintech, Brands, Brokerages, Teams and Elite agents, we are confident that our resources, insights and strategies can help you achieve your goals.
Remember, success in the luxury real estate industry starts with knowledge and strategy, and we are here to provide you with both.
Here are some links to our more popular resources:
If you're wondering what consulting or coaching solutions we offer, we've set up a handy wizard to guide you to the ideal options that would be tailored to your situation. 
For additional and real time insights, updates and news from our Founding and Managing Partner, Chris Pollinger, you can follow him on LinkedIn – Twitter – Facebook – Instagram
Trends in Luxury Design: References
1"Profile of Home Staging." NATIONAL ASSOCIATION OF REALTORS®. All rights reserved. Copyright ©2023 https://cdn.NAR.realtor//sites/default/files/documents/2023-profile-of-home-staging-03-30-2023.pdf
2"2021 Seller's Market Survey." Real Estate Staging Association®. 2021. https://www.realestatestagingassociation.com/content.aspx?page_id=22&club_id=304550&module_id=164548
3"Zillow Group Consumer Housing Trends Report 2019." Zillow Group. 2019. https://www.zillow.com/sellers-guide/home-staging-cost/
4"2021 State of the Industry Benchmarking Report." Real Estate Staging Association. 2021. realestatestagingassociation.com/content.aspx?page_id=22&club_id=304550&module_id=164548
5"Home Staging Industry Statistics." International Association of Home Staging Professionals. 2022. http://www.homestagingstats.com/
6"10 Virtual Staging Statistics That Will Surprise You." LCP Media. July 17, 2019. lcpmedia.com/blog/virtual-staging-statistics
7"How Much Does It Cost to Stage a House—And How Much Will You Gain?" Realtor.com. 2023. realtor.com/advice/sell/how-much-does-home-staging-cost/